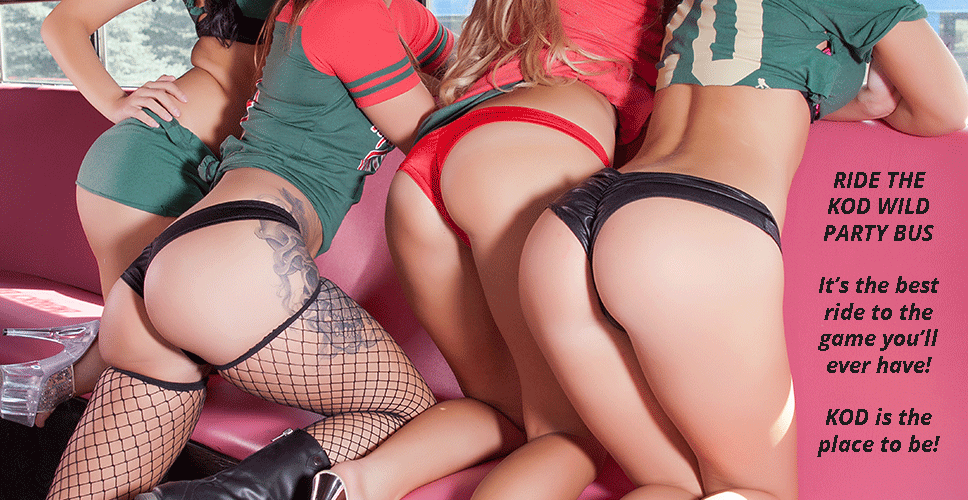 Ride The Wild Party Bus to Wild Games!
KOD has a party bus running to and from MN Wild games. Tickets for the bus are only $10 and can be purchased at cover charge in advance or the day of the game. Here is what your $10 gets you:
• Ride with beautiful women
• Free cover after the game
• Dropped off & picked up at Xcel Energy Center
• Coupon for free cover to be used on a future date
• Free parking at the KOD
Thanks to Fun Run Party Buses for being KOD's Party Bus Connection! Check them out on Facebook or at www.funrunpartybuses.com if you want a Party Bus for your Birthday, Bachelor Party, or Just for Fun!
Note: No beverages from KOD may be brought on the bus, but riders may bring their own liquid refreshments on the bus. However, NO PERSONAL ITEMS MAY BE LEFT ON THE BUS ONCE YOU GET OFF FOR THE GAME (so don't bring more than you care to drink in 15 minutes). All personal items must be removed from the bus upon arrival at the arena.
**buses leave KOD 1 hour prior to start of the game and returns to KOD 45 minutes after

Wild Party Bus Schedule- 2017-18
Date
Visitor
**Bus LEAVES KOD

1 Hr Before Game Time

SAT OCT 14
COLUMBUS
THU OCT 26
NY ISLANDERS
SAT OCT 28
PITTSBURGH
THU NOV 2
MONTREAL
SAT NOV 4
CHICAGO
THU NOV 16
NASHVILLE
THU NOV 30
VEGAS
THU DEC 14
TORONTO
FRI DEC 29
NASHVILLE
THU JAN 4
BUFFALO
SAT JAN 20
TAMPA BAY
THU FEB 8
ARIZONA
SAT FEB 10
CHICAGO
THU FEB 15
WASHINGTON
SAT MAR 24
NASHVILLE
 Sold Out
THU MAR 29
DALLAS